Would you read an article to the end, if it saved you hundreds of $ per month?
Are you paying for an SEO Package? Many businesses do. Yet you probably have no idea what you actually get for that fee. Have you asked your vendor for clarity on this expense – where is the proof that my SEO Package has an ROI?
This article will clarify that these costs have no provable ROI and therefore are vapor and they hurt your search rank – aka. a scam.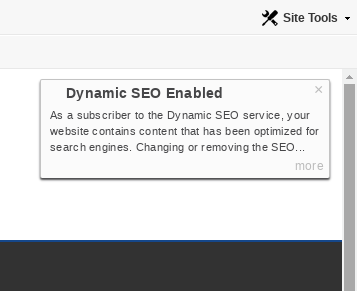 What is an SEO Package. It's sometimes called "Dynamic SEO", which is a more accurate description of what they do.
Your website consists of template pages. Those pages are just a combination of generic text and wild-cards.
The wild-cards are a placeholder for your keywords.
The keywords are stored in a database and when a page is requested by a user, the page is dynamically created by combining the generic text with your keywords.
All modern website engines use this template principal and therefore your website already contains this framework. The website won't function unless someone takes the time to insert your keywords in the database. Keep that in mind.
30 minutes of data entry. Job complete.
Your vendor must enter your keywords into a database table at setup. This is a one-time event. The keywords are simply your business name, phone numbers, "geos" (PMA, etc.), product names. Nothing special here. This is not hard work either. Anyone who can type on a keyboard can do it.
Below is a page template. See the Title, Keywords, Description boxes? They are mostly filled with [wildcards] from the box on the right. This is how the website dynamically builds a page using your [keywords], found in the database. re. [Current Year] or [City] with some generic text in between.
[Wildcards = Keywords] + Generic Text = WebPage
Call [Dealership Phone] for more information.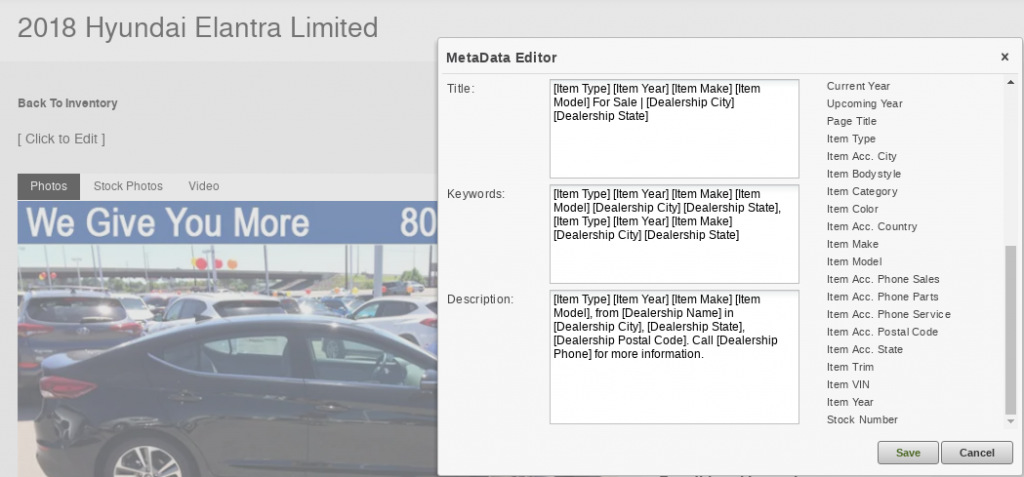 These boxes are also called Meta Data. These boxes are read by search engines and used to make your "listing" on the search results page (when searching Google, Bing, Yahoo). That is why your "listing" looks identical on all those search engines.
Your vendor may rearranged the template periodically. But that is meaningless, because that template is exactly same for all their websites – they are identical with only the wildcard keywords differentiating one business from the other.
The Scam
Strong words! Here is why I call it a scam: In the initial presentations, they told you they build "The Best Search Engine Optimized Websites", didn't they? I know they did, because I've been in those presentations too. Well then why do they later sell you an SEO (add-on) Package? ( now they will reply, "its about beating the other guy in search results" ) Scammers are always prepared to answer that one. So lets look under that hood, shall we?
Your website is [NOT] special…
By now you understand that every other website your vendor provides has the exact same template. If every competitor has the same template, how is your website going to beat the other guys in search results?
How is Google going to decide which one is better if they all look alike? Just look at this example of a Google search for Ford dealers in Miami. (try it yourself) We can easily see they both have the same website vendor with the same Dynamic SEO Package (and that is why they are listed right next to each other – near the bottom of the search results page ) – that's beat'en 'em!

That template is easy to spot when you know what to look for. The only difference is the placement of the [Dealership] wildcard position between these 2 listings. See it?
[Make] Dealer in [City],[State] | Used Cars [City]
"[Dealership] is your source for new [Make]s and used cars in [City], [State]. Browse our full inventory online and then come on down for a test drive".
[The Robot] made me "Come on down"
See how this Dynamic SEO Package is working so well, it's impossible to choose between Metro Ford and Midway Ford. They are both so "SEO optimized" that I just can't decide who sounds more like a robot. And because they are identical, Google is demoting these listings slightly – to the bottom of the page. That is common, because search engines reward good content. Duplication looks like spam to Google. Every professional knows this. So not only are you paying for something that is not giving you an advantage, its actually hurting your search performance.
And that is what you get, for a few $ per month!
Don't pay for it.
If you need help holding your vendors accountable and want to trim the waste in your digital budget and improve your performance, all at the same time, we do that.