Are you paying for an SEO Package from your website vendor? Many businesses do. Yet you probably have no idea what exactly you get for that monthly fee. You probably don't even know how to ask your vendor for clarity on this expense – and proof that its has an ROI.
Problem solved. This article will get you oriented.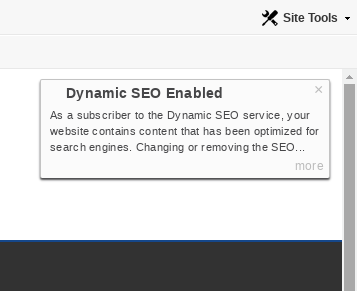 Website vendors often offer what they call "SEO Packages". It's technically called "Dynamic SEO". That means your website consists of templates. Each page is a template. The page is a combination of text and wild-card terms that form the pages of your website that people see.
The wild-card terms are "keywords". They are stored in a database and when a page is requested, the page is "dynamically" created on each view in a browser. All modern website engines use this template principal. For example, that is exactly how WordPress works.
30 minutes of data entry. Job complete.
Your vendor enters your keywords into a database table at setup – mind you, this is a one-time event. Those keywords are not magical either. The "keywords" are simply your business name, phone numbers, "geos" (PMA, etc.), product names. This is not hard work. Anyone who can type on a keyboard can do it.
Below is what a page template looks like. See the Title, Keywords, Description boxes? They are mostly filled with [wildcards] from the box on the right, which is how the database fills the page with your "keywords". re. [Current Year] or [City] with some generic text in between. (and the content sure wasn't written by Mark Twain).
Call [Dealership Phone] for more information.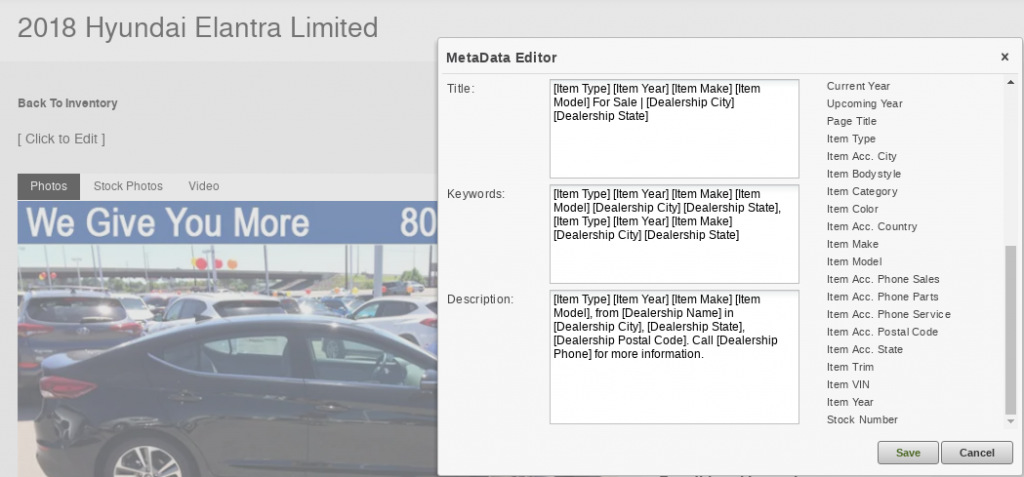 Further; each page of your website contains these three meta data fields which are populated using those templates (instead of plain text). This Meta data is used by search engines and that information forms the text you see on Google when you search. Your vendor may rearranged the template periodically, maybe every year. Maybe not. But that is meaningless, because the same template is distributed across all customer websites at the same time (they will call it an update and tell you they did it for free). That means your vendor's websites (and your website) are all identical with only the wildcard keywords differentiating one business from the other.
Didn't You Get the Memo?
Funny thing, in the initial presentations, they told you they build "The Best Search Engine Optimized Websites", didn't they? I know they did, because I've been in those presentations too. Well why do they later sell you an SEO Ad-On Package? They say its about "beating the other guy in search results", right?
Your website is [NOT] special…
…because every other customer of your vendor has the exact same template. Not convinced yet? Just look at this example of a Google search for Ford dealers in Miami. (try it yourself) We can easily see they both have the same website vendor with the same Dynamic SEO Package (and that is why they are listed right next to each other near the bottom of the search results page) – that's beat'en 'em!

That template is easy to spot when you know what to look for. There is only the placement of the [Dealership] wildcard position that differentiates these 2 listings. See it?
[Make] Dealer in [City],[State] | Used Cars [City]
"[Dealership] is your source for new [Make]s and used cars in [City], [State]. Browse our full inventory online and then come on down for a test drive".
[The Robot] made me "Come on down"
See how this Dynamic SEO Package is working so well, it's impossible to choose between Metro Ford and Midway Ford. They are both so SEO optimized I just can't decide who sounds more like a robot.
And that is what you get, for a few hundred dollars a month!
Don't pay for it. It's already built into the website anyway.
Its pathetic that this is sold as an Add-On product, because the template is integrated into the website anyway, that's just how it work, whether you pay for it or not. That's why I call this one of the best SEO scams ever. These vendors are pulling down hundreds of thousands of dollars per month for doing almost nothing and the results are the very definition of mediocrity.
If you need help holding your vendors accountable and want to trim the waste in your digital budget, we do that.