Does Blogging Pay?  Its the most common directive issued in SEO. Blog! If you want free traffic, Blog! If you don't have a big budget to pay Google Adwords or Bing Adcenter for clicks, BLOG!
But does blogging really payoff? Here is your real-world-local-business answer. Not only can we see exactly how many clicks a blog post is bringing every month, month after month; we can calculate the exact value of those clicks, and therefore calculate the exact value of the blog-post. (which means how much could you pay someone to blog for your business) Here is our Query Report from Google Webmaster or Google Analytics.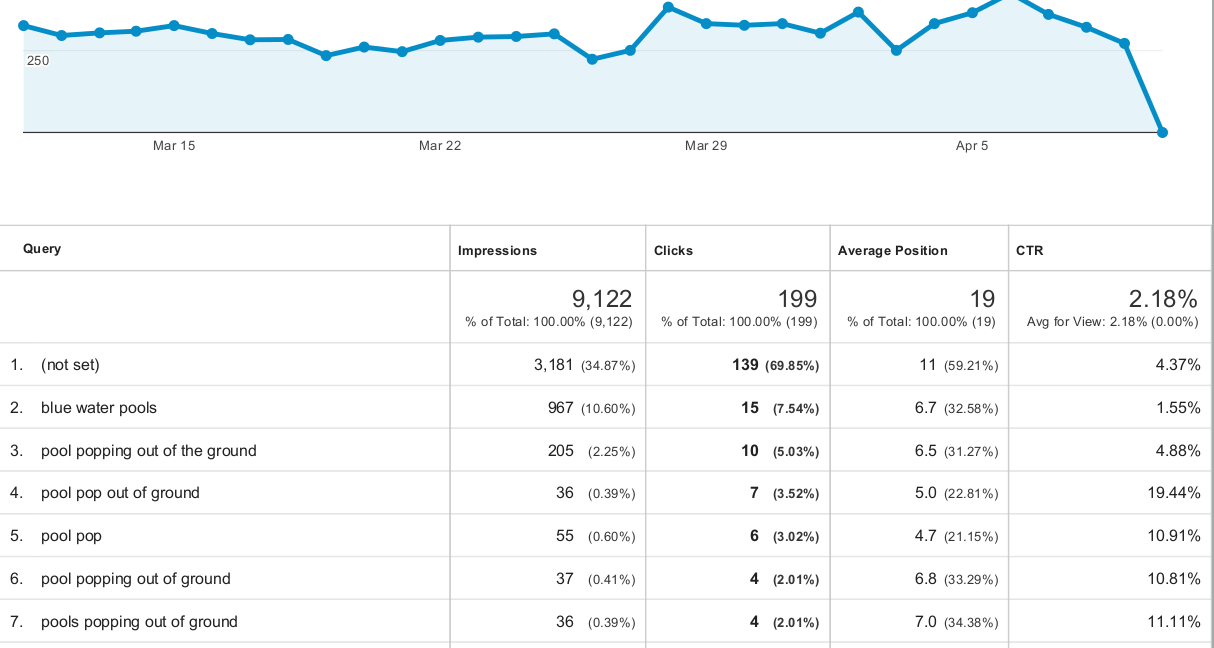 A single Blog-post about how swimming pools can pop out of the ground, brought our business 31 clicks from natural searches last month.

Therefore if our blog-post brought 31 visitors and we are paying a nice round figure of $3.30 per visitors in our PPC campaigns, the blog is worth $102.30 per month or $1,227.60 per year. With this data, we can now make many more assumptions about our marketing spend.
Brilliant! Hold on! What you may have missed is that there are 4 blog-posts on this website, but this is the only one that is performing to bring us a measurable number of free visitors. That is a variable that needs to be included in our overall marketing calculations to determine what a blog-post is really worth (paying for).
Plus there are a few noteworthy bullets to go with our numbers that can serve to flesh-out your Internet Marketing assumptions:
The blog-post title, when written, did not reflect what those online searches would be that produces our traffic. This blog-post could potentially perform much better with the right title. That's water under the bridge, but now that we know, we can still do some SEO to increase our page position and thereby, increase our clicks.
The CTR for this post is exceptional. Combined with Average Positions (that are at the bottom of page 1) and that tells us the other results on the SERP (search results page) are not as appealing, and may also mean our meta description (SEO) is working well.
Another critical marketing variable not provided here is CONVERSION (into leads, into sales) but that's something for another post. With conversion figures you can really dial-in your ROI – the ultimate in Internet Marketing Planning.
Alrighty then:
Q: What should I blog about?

A: What questions do your customers ask you?

Q: Should you hire someone to write blogs?

A: Can you produce the material for them and can they optimize the content?
I know those are not an answers, but they should point you in the right direction to the answer you need. Only you know your business well enough to make all this work. Everyone else can only help.
Well, without question, blogging works to bring (relatively) free traffic and save you the cost of paying Google and Bing for visitors. There is technique (SEO) involved in making it work to its full potential, but my experience is that everyone has moments of inspiration and motivation, but few can actually execute – consistently. Perseverance and persistence (lack thereof), not $, is what inhibits most Internet Marketing from real success.
But at least now you cannot say you don't know whether blogging is worthwhile for your business.